I am back!
Below will be pure pictures heavy blog post, so beware!
Day 0 to 1
Ready, get set, go!
JAL's seats are big and comfy! We got to sit on the capsule ones on the return trip wahaha~
They will show you the take off and landing live!
Ever had breakfast at 4am?
Yep, plane breakfast of chicken porridge and soba. Tastes good!
And since it's too early to check in, we checked in the luggage first and went around for lunch and also walk around the area first.
This is just near the hotel area.
And across the street towards the station. The Shinjuku station is just a 15 minutes walk away.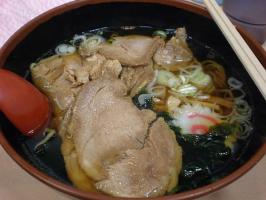 Lunch! Shoyu Ramen! At the train station! 300 yen only! AND FULL OF MEAT! =D
Joybox arcade, and it's just 10 minutes from the hotel. lol. 50 yen per game! Sweet.
Club Sega is just around the corner too!
So is Game Plaza!
And 21 Spot!
At this point, it's near check in time so we walked back, checked in.
THEN IT'S TIME FOR AKIBA!
Didn't stay there too long though.
Yotobashi Kamera - a place for all your electronic needs from A-Z
Poster of Last Remnent on top of it.
The Taito Game Station at Akiba~
Sun really sets pretty fast.
Gamers Akiba. From anime to games, they have it.
Tokyo Leisureland Akiba. We had a few games there. And the Arcana Heart 3 location test will be in day 4.
Dinner! Black curry katsu! YUM.
On our way back to the hotel, this sprung up outside the Shinjuku station. There were 2 of them, in fact. These pushcarts are slowly dying away, so I took a picture for memories.
Day 2
We went to Osaka to check out the place and find the arcade for the BlazBlue location test.
But! Before we head off. BREAKFAST AT THE STATION.
Kakiage soba! YUM!
Shinkansen to Shin Osaka~ We didn't manage to get the reserved seats so we queued.
And we're lucky! We got seats! XD This is the inside.
And for the next 3 hours, it's DS, music, sleep.
As we woke up, we are approaching Nagoya.
Nagoya..
Fields/Farms around Nagoya.
More trees and greenery of Nagoya.
Underground mall in Namba Station in Osaka.
This is outside the station.
And we walked and found Namba Centre, where the Namba Hills arcade is.
It's a very nice shopping and eating area!
Further inside Namba Centre~
Namba Hills arcade, where the BlazBlue: Continumm Shift location test will be held in day 3.
Because there weren't any posters and there were no BB machines, it got us quite worried.
We walked out and found Athena arcade. 50 yen per game! Played a few rounds there. Won a Litchi player and lost to this crazy Noel and then lost to a crazy Rachel player.
We walked back to Namba Centre for lunch. I want my Okonomiyaki!
And guess what? This happened to be THE ORIGINAL BOTEJYU RESTAURANT! And it's 10 times better than the one in Singapore!
We only knew it's Botejyu after we got the reciept.
As we walked back...
YES THE LEGENDARY HOT FOOD VENDING MACHING THAT I AM LOOKING FOR! IT EXISTS, FOLKS! I AM NOT CRAZY!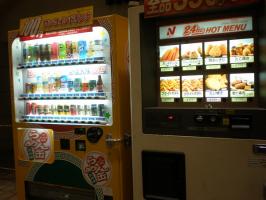 Right next to a drinks machine too lol...
And we decided it's about time to go, so we got some Takoyaki~
Yays~ I love Osaka~
TAKOYAKIIIIII
Dinner was tempura udon! LOVELY!
Day 3
We head to Osaka again. For the BlazBlue location test and to meet Kilvear's friend, HeartNana.
Because we had to catch the first train...
We had this on the train for breakfast.
Ta-da~ A train bento set of karaage chicken and tomato rice. These bento sets are only sold inside the station.
Then we headed to Namba Hills arcade to meet up with HeartNana.
BlazBlue Continumm Shift location test posters finally up.
Location test in progress!
In location tests, the first 2 rounds are usually just mercy rounds and let each other win until a tie breaker so that we can test things out, hence called location tests.
But Kilvear met this really mean Hakumen player and lost and the next is my turn (we have to take a number a queue) and I had to fight him so I tried my best to beat him and I won. the people in the queue commented that "This girl went all out!" and I was thinking "JUST LOOK AT THAT IDIOT MY GOD!"
Then later I lost to a Jin user and took another number for another turn. Fought a Noel and won and then lost to a Ragna. Now in the second go, these people are nice and are actually properly letting each other test the game out.
Then the 3 of us decided to head out for lunch. And I saw this shrine on our way out.
It's a Shrine for Bishamonten.
This is HeartNana, with his CHEESE CURRY RICE!
This is mine. Half boiled egg curry rice!
So we hung out around a bit more before he had to leave and we went back to watch the location tests until it's time to head back.
Dinner was kitsune soba at the eatery near the hotel.
Day 4
We will be heading to Akiba for the Arcana Heart location test and also walk around Akiba after that.
Breakfast was egg and cha siew ramen at the Akiba station!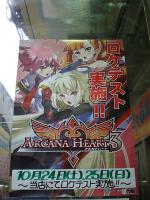 Poster for the location test outside the arcade.
And another poster.
Again, a photo of location test in progress.
I queued for the VS CPU 3 stages play while Kilvear queued for the VS players play.
After that, we went around the back lanes of Akiba~
Many shops galore!
Maids from the cafe calling out to people via a PA. These maids are crawling all over the streets of Akiba to be honest.
Then we went to the Akiba showroom of Volks.
I wanted to take a picture of the"Welcome to Volks Akihabara Showroom" signboard but one staff ran out to tell me to delete it. Oh well.
Then we had a late lunch.
Lunch was at one of the back lane curry shops. This is JUMBO KATSU CURRY!
And we were being really curious and stupid and decide to be a busybody (it's an inside joke thing) and went to Chiba. It's really a waste of time, really.
Well, we found the Goi branch of game Chariot and certified the person in said inside joke is downright stupid. Proved our case. Played a few games and went back to Shinjuku.
Dinner was half boiled egg soba at the Shinjuki station.
This be my loot so far! Clockwise from top:
Buttons and stick parts for my arcade controller, the very first Guilty Gear game (to replace my old one that got lost), BlazBlue: Calamity Trigger phone card that is sold with Japan-only pre-orders, Arcana Heart 3 postcard given free from the location test.
Day 5
It's more Akiba! To explore more back lanes. And it's a rainy day with strong winds. It's so cold I had to wear gloves.
But because of the super tight schedules from the past few days and stuff, we were so tired and slept in and went to Akiba later. So we had brunch there at this very cool place.
It's called Kouryuu. 800 yen ramen, choose 4 toppings of your choice!
This is how mine turned out. With seasoned egg, pork, bamboo shoots and mushroom strips!
Then we went to check out Uniqlo. I bought 2 tops there. One of them was 1000 yen and the other about 1500. Great deals!
Then we braved the rains and winds again to explore some more.
I wanted to buy my long lost Panasonic headphones and I FOUND THEM AT YOTOBASHI KAMERA! I OFFICIALLY LOVE THAT PLACE!
We also went to places like White Canvas to look at Touhou stuff, and Super Potato again for the old retro games (that was where I found my Guilty Gear first game) and Mak Japan coz Kilvear wanted to get buttons (that is where I got my stick parts from) and also Mandrake.
We also went to spend time inside Club Sega. Well, it's raining and it's warm inside buildings!
And I decided to head to the Volks Akiba Showroom again because I wanted to buy something for my dolls. I got the anti-UV spray and 2 pairs of eyes.
Then we went back to Shinjuku to dump our loot down to head out for dinner.
We ate at one of the eateries in the back lane near our hotel, the place where there are many arcades together.
This is mine. Half boiled egg kakiage soba.
This is Kilvear's. Curry rice with udon set, though he already ate like half of the curry rice already lol.
The fact that we are eating a lot is because it's really cold and you really get hungry very fast because of that.
Day 6
Last day. Really, I do feel very sad on this day. But well, you can't have them all, right?
And I do miss my bed! And teh-si. But my bed more.
So we check out in the morning, since we have to scram by 10. We checked out at about 9. It's still early so not much places are open yet so we went back to the back lane for breakfast.
Half boiled egg kitsune soba. I really felt quite sad while I was eating it.
Then we headed to Akiba, stored our bags into the lockers and walked around Akiba to spend time.
We went to Super Potato again and Kilvear bought a Famicom clock for his dad, while I went to Volks Akiba Showroom again to grab stuff for Seiyume. Then we walked around some more, played some games at Hey Station, and left the place for Ueno to take the Skyliner to Narita airport.
At this point, Kilvear asked if I am feeling a little sad already. To be honest, yes I was.
A part of the art inside Ueno station.
This is the outside of Ueno station.
Trust me, the sun is not hot at all.
Across the street.
Then we went to the the Skyliner station to grab the tickets to Narita airport. It's about 50 minutes train ride.
Passing some farms before reaching Narita station.
We went to the food court for late lunch before boarding. It was like, 3+ near 4?
My ramen set.
Then we went to check in our luggage and went in. And we saw this.
Duty free Akiba. LOL.
A cool musashi display inside the airport.
Played DS all the way to pass time. And dinner is served.
Seafood curry rice set. And I must say, JAL airplane food is pretty good.
And played more DS until we reach Singapore. We played till battery almost flat. Kilvear was playing Pokemon while I played Kirby Canvas Curse.
And this is my entire loot for the whole trip:
Clockwise from top: anti-UV spray and eyes from Volks Akiba Showroom, Panasonic headpones from Yotabashi Kamera Akiba, free Arcana Heart 2 post card, 2 tops from Uniqlo, Tekken 6 Bloodline Rebellion Tekken.net ID Card from Joybox arcade, BlazBlue: Calamity Trigger limited edition phone card, a train pass I picked up in Osaka (lol), Guilty Gear from Super Potato. Buttons and sticks not in this picture lol.
I will definitely go back to Japan again. And I do miss my soba and takoyaki already.
2009-10-28(22:42) :
Japan :