He's finally home~~♥
It arrived on the 24th! ♥
Who cares if it's 4 days late, as long as it's here! ♥♥♥♥
Thanks to my dear friends for getting this for me as my birthday present and to cheer me up after being so disappointed with Play Asia! ^_^
*gives hearts and kisses to Naoko, Maddy, Sumomo, Sapphire and Melody!* ♥♥♥♥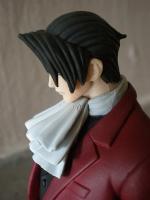 I'm quite heartbroken that there's a little flaw on his cravat, but I guess one can't expect everything to be 100%. *sighs*
Of course, I have to place my Prosecutor Badge on his stand!⌒♥ XD
And that's the Mitsurugi phone strap that came with the LE. ^_^
I cleared the game last night! Considering that the game reached me on the 14th (V-day lol), and I've been clearing the game on whatever free time I have since, it's rather slow this time for me. =(
My reading speed for Japanese has slowed down quite a bit. *sighs*
I cried a little at the end of it. Not as hard as I did with Case 3 but I must say, this installment has a really great plot!
Best Court room drama ever~ Expected plot twist happened, and the 2 whom I suspected their identities are confirmed except swapped the other way around because of the twist. XD;;
I realized I didn't spam pics of the package from Play Asia. Too engrossed with clearing the game. XD;;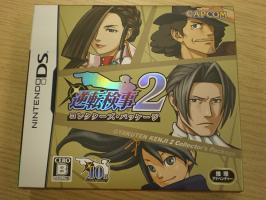 Collector's Package Box that contains the game, CD and DVD. They use the same box for Limite Edition and Collector's Edition.
The game itself.
Orchestral Arrangement Album that's not for sale.
The CD.
DVD containing all of Gyakuten Kenji 2's trailers.
All in all, I LOVE GYAKUTEN KENJI 2!! It's better than Kenji 1 and I really, REALLY hope there's a Kenji 3!
2011-02-26(21:31) :
Games :