Last Sunday, I finally got the phone that I've been eyeing on!
The HTC Desire Z!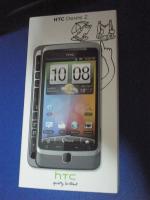 This baby is finally mine! ♥
Turned off 3G to save battery power while customizing the phone. I personalized the phone the moment I get home without charging it first, and managed to fully customize him before the battery went flat. XD
Friends who know me knows I'm not into the iPhone at all, so Kerubin's efforts to convince me to the Dark Side has failed. He may have convinced Choco to get one (husband and wife phone LOL) but not me. I've always been an Android fan. XD
I've been looking out for phones with a qwerty keyboard and this one stole my heart away.
I tried the Milestone 2 and was rather disappointed with it. The Xperia series never got my interest. And I like the fact that it's rather slim despite having a full keyboard. =)
I'm also surprised that it has Plurk loaded in it by default! I can save the trouble of downloading the app and just go nuts with the Gyakuten Plurk Gang. XD
On a non tech-geek note, I also got myself an Angry Bird Plushie! XD
SAY WHAT?
I'm not a fan of the game, but I like the red bird a lot. Managed to get one when they restocked and the next day I passed by the store, it's sold out again! Guess everyone loves the red bird. XD
2011-04-19(21:30) :
Life :